Land survey has become an important part of engineering, construction and land planning management. The land surveyors, relying on their expertise, accomplished this task with absolute precision and precision. Land survey is essentially an effective urban planning. If properly investigated with the right tools and knowledge, it can have a positive impact on urban planning or construction.
Therefore, land surveyors are always required to carry some necessary tools when they are working. If you are looking for suitable work uniform for the surveyors, it is a good choice for a safety vest with multi-functional pockets.
Quality Surveyor Work Vests
What are the features of a high quality surveyor work vest?
Simply put, the right surveyor vest should make surveyors more efficient while protecting their lives. This determines several important criteria for selecting a surveyor's vest: whether it offers high visibility, whether it has a versatile pocket, and whether it can be printed with custom design.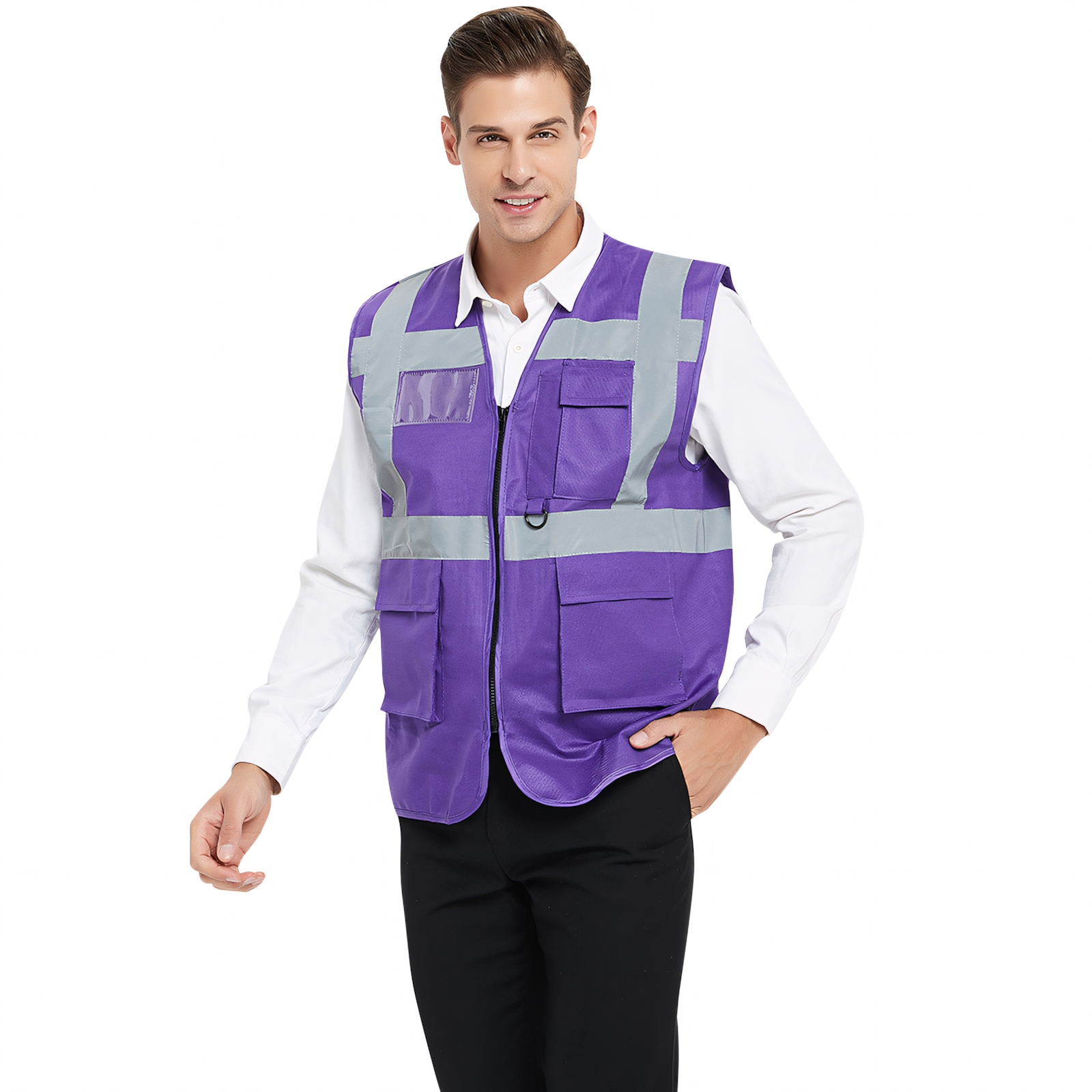 GOGO 5 Pockets High Visibility Safety Vest
High Visibility
As an industrial worker, a surveyor is also exposed to all kinds of accidental dangers. It is certainly necessary for a surveyor to wear a hi-vis safety vest. Similar to roadside workers, surveyors should be easily seen on the job site, in order to avoid most of accidents.
Opentip's surveyor safety vest is made of high visibility fabric. Its reflective trims can also enhance surveyor's visibility. Not only during the day, but also at night you don't have to worry about surveyors not being seen by moving vehicles. A practical and durable reflective work vest can solve any safety concerns you have.
Multi-functional Pockets
Surveyors are required to carry various measure tools during working. As a result, different from traditional safety vests, a surveyor safety vest should have multi-functional pockets, which are allowed to be filled with different kinds of measuring tools or surveyors' personal belongings. Different pockets fit different tools, such as maps, pens, notepads, ID cards and other measure tools.
Personalized Logo Printed
Are you willing to design a batch of custom safety vests online? Do it at Opentip! Here are all kinds of customized hi-vis vests, which can be printed with name, logo or other message. With such personalized patterns, the surveyors, and your brand logo, will be identified quickly.
Opentip Surveyor Vest with Logo
If you're looking for a reliable safety vest service, Opentip.com is a good store for you. Opentip provides you with an affordable and easy service. They offer the most durable custom-made safety vests with the finest fabrics. These vests can be printed with any personalized logo. Opentip has the most abundant product selection and the most favorable product price. They won't let you down.